Below, we compare the top treadmill desks or "walking workstations" for 2018. Keep in mind that many treadmill desk reviews include under-desk treadmills can be purchased separately. Therefore, you can create the workspace you really want depending on the furniture you need. In addition, you can also build your own custom DIY treadmill desk around exercise equipment you already have. You can save $100's, plus this DIY project is actually not difficult to do. Sometimes, people opt to make a desk and put their money toward a better quality treadmill.
Treadmill Desks
Price
Desktop Size
Desk Height
Belt Size
Motor Power
Max Speed
Rating 1/5
Other Features
ProForm Thinline Desk Treadmill
$1799
$1610
48″W x 24″D
Adjustable
60″L x 20″W
2.75 Commercial Plus Motor
12 mph
4.5
Can be used for running, 12% incline, console flips down for desk, tablet holder, heart rate monitor, iFIT technology. See Complete Review
Conquer Walking Treadmill Desk
$1499
$999
48″W x 28″D
Adjustable, 35.5″-52.5″
48″L x 16″W
?
4 mph
4.7
Can be used for running, 12% incline, console flips down for desk, tablet holder, heart rate monitor, iFIT technology. See Complete Review
Exerpeutic 2000 WorkFit
Treadmill + Desk
$747
48″W x 24″D
48″ from treadmill to desktop, not adjustable
40″L x 20″W
1.5 horsepower
4 mph
4.0
Desktop is not vertically adjustable, but can be tilted- Treadmill can incline 15%. See Complete Review
LifeSpan TR1200-DT  Desk + Treadmill
$1499
46″W x 31″D
Desk adjusts from 36″ to 56″ high
52″L x 18″W
2.25 horsepower
4 mph
4.5
Adjusts up and down with leg knobs. Foam Armrest along front of desk- Bluetooth. See Complete Review
Life Fitness Treadmill Desk
$4599
$2499
40″W x 31″D
Adjusts 36″ to 48″ above walking belt
48″L x 20″W
3 HP continuous duty DC
4 mph
4.2
Modern design, silent motor (ideal in office environments), connectivity panel for electronic devices, FlexDeck® Shock Absorption reduces joint impact.
Stand Steady X-Elite Pro
$350
$199
28″W x 20″D
Adjustable
N/A
No Motor
Desk Attachment Only
4.6
The easy-to-use, take-anywhere standing desk accessory. Comes fully assembled. See Complete Review
Varidesk Height-Adjustable Standing Desk
$395
36″W x 29″D
Adjustable
N/A
No Motor
Desk Attachment Only
5.0
Portable, adjustable and multi-level desk that lets you put your monitor higher than your keyboard.
Mobile Stand Up Desk on Wheels
$296
$189
39″W x 29″D
Desk adjusts from 28.75″ to 42.75″ high
N/A
No Motor
Desk Only
4.5
Inexpensive, versatile workstation that includes a swiveling monitor mount, some treadmills may not fit under it. See Complete Review
LifeSpan Under-Desk Treadmill
$1299
$799
Treadmill Only
N/A
52″L x 18″W
2.0 HP Continuous Duty DC
4 mph
4.5
Specially-designed walking treadmill includes conveniently small console is bluetooth-enabled & tracks miles walked, calories burned. See Complete Review
Rebel Under-Desk Treadmill
$999
$799
Treadmill Only
N/A
50″L x 18″W
1.5 HP (3.5 peak), DC continuous drive motor
2 mph
4.5
Walking-specific treadmill. Very quiet when in use, limited speed capacity. See Complete Review
Titan Fitness Walking Treadmill
$799
$450
Treadmill Only
N/A
53″L x 18″W
?
4 mph
4.1
Quiet operation and great low price. Titan Fitness also makes an affordable sit-to-stand desk. Fitshow compatible Android Apple.
Why Should You Care About My Treadmill Desk Reviews?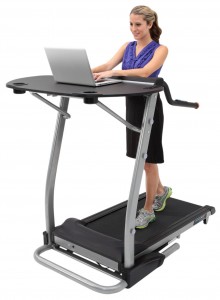 First of all, I use a treadmill desk myself (the Exerpeutic). As you'd expect, my own experience can help other people find the desks that they want. Plus, you can even find information on how to build a treadmill desk yourself and save money.
In my opinion, the NordicTrack and ProForm Thinline models rate a close second. I say this because they are much more affordable than other versions, plus they are more compact and make efficient use of space. However, these workstations were not available when I bought my treadmill desk.
When I first started shopping for a treadmill desk, I had no idea what to expect. Could I actually walk while I worked?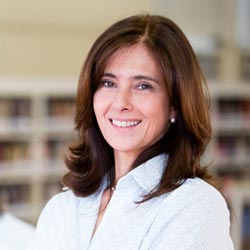 With so many unknown factors, it was hard for me to justify spending $1000 for a piece of equipment/furniture. Should I simply cross my fingers hope it would work? Hence, I personally find treadmill desk reviews very helpful.
Now that I own one, I can say that I am really glad I made the purchase. I love it and use it all the time.
That said, standing desks take some time to get used to, not to mention walking while typing, etc.. Therefore, be prepared for a few weeks of uncertainty while you switch back and forth from sitting to standing/walking. Most people experience this same transition.
(By the way, I still sit and work sometimes. However, I now find that I get antsy after about an hour and want to move around.) I can't complain about that!
Treadmill Desks have More Benefits than I Thought…
Lastly, after that initial "getting-used-to-walking-while-working" stage, I found that I stayed more active throughout the day. For example, walking at my desk helped me burn more calories and get more done both on and off the treadmill.
Coincidentally, I have less back pain, better circulation and clearer thinking – among other things.
I hope that the information on this site helps you, especially if you are like me and want to get off your butt. =)